The Customer who has foreign driver's license, it is mandatory to have one of the following driver's license to drive a car in Japan.
・International Driver's License. (Issued based on the Geneva convention 1949.)
・Foreign Driver's License (Switzerland, Germany, France, Taiwan, Belgium, Estonia, Monaco) and Official Japanese Translation Document
International Driver's License. (Issued based on the Geneva convention 1949.)
In case of International Driver's License, you will need your passport and International Driving Permit (IDP), recognized under the Geneva Convention to drive in Japan. The IDP must have an expiry date of one year after issue. It will be valid in Japan one year after entering the country (immigration stamp date).
IDP recognized under the Paris Convention (1926), Washington Convention (1943), Vienna Convention (1968) are not permitted in Japan. *IDP issued in Japan will not be accepted.
A resident's card and an international driver's license together do not fulfill the identification requirement for renting cars.
The international diver's license expires in a year after entering Japan.
As the date of entry to Japan cannot be confirmed with a residence card, we require a passport in order to confirm the date of entry.
Parties to the 1949 Geneva Convention:
ASIA
Bangladesh, Cambodia, India, Laos, Malaysia, Singapore,
Sri Lanka, South Korea, Thailand, The Philippines

AFRICA
Algeria, Burkina Faso, Benin, Botswana, Cote d'Ivoire,
Congo, Central Africa, Democratic Republic of the Congo, Egypt, Ghana, Lesotho, Morocco, Madagascar, Malawi, Mali, Nigeria, Namibia, Niger, Rwanda, Senegal, Sierra Leone, South Africa, Togo, Tunisia, Uganda, Zimbabwe
AMERICAS
Argentina, Barbados, Canada, Chile, Cuba, Ecuador, Guatemala, Haiti, Jamaica, Paraguay, Peru, Trinidad and Tobago, Venezuela,
The Dominican Republic, The United States of America,
EUROPE
Albania, Austria, Belgium, Bulgaria, Czech Republic, Denmark, Finland, France, Greece, Hungary, Iceland, Ireland, Italy, Kyrgyz Republic, Luxembourg, Malta, Monaco, Montenegro, Norway, Poland, Portugal, Romania, Russia and the former Republics, San Marino, Serbia, Slovakia, Spain, Sweden, The Netherlands, The Republic of Georgia, United Kingdom, Vatican
MIDDLE EAST
Cyprus, Israel, Jordan, Lebanon, Syria, Turkey, United Arab Emirates
OCEANIA
Australia, Fiji, New Zealand, Papua New Guinea
OTHERS
Hong Kong, Macau
Foreign Driver's License (Switzerland, Germany, France, Taiwan, Belgium, Estonia, Monaco)
If you hold a driving permit from Switzerland, Germany, France, Taiwan, Belgium, Slovenia, Monaco, you may use your driving permit in Japan for one year after arrival, as along as you provide a Japanese translation of the permit. Please bring both documents and passport to us.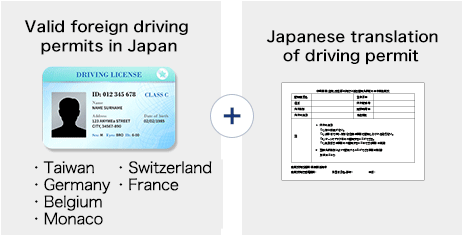 Japanese translation
You may issue a Japanese translation at your embassy, consulate, or JAF. Click on the following link to find out more about JAF. If you hold a permit from Taiwan, you must issue a translation from JAF or the East Asia Relations Commission.
If you need our Japanese translation service, please check our license translation service.